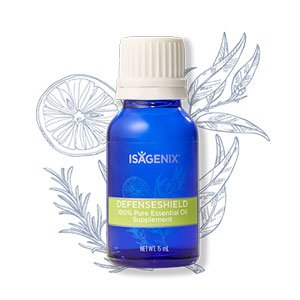 DefenseShield combines lemon, frankincense, eucalyptus, rosemary, clove and cinnamon bark to energise the body and purify the air when diffused. Add a few drops to a spray bottle with water and use as a surface cleaner.
Retail Price: $57.33
Sign Up and Save Price with FREE membership: $43.01 (Save $14.32!)

DefenseShield Oil
Benefits:
This potent blend boasts several key essential oils such as cinnamon bark, clove, frankincense, lemon, and rosemary to energise and purify.
Used directly on the skin, DefenseShield is designed to battle free radicals and support healthy circulation. When ingested, it may support the body's natural defenses, the respiratory system, and the immune system. With a comforting, warm aroma, DefenseShield adds a desirable scent to the air. It also doubles as a powerful, natural surface cleaner.
Application Methods:
Topical – Use 10 to 12 drops of Essence Coconut Application Oil to dilute a drop of oil. Apply to desired area.
Internal – Add a single drop of oil to 4 ounces of a liquid of your choice.
Aromatic – Diffuse 8 to 10 drops in your Essence Aromatic Cool Mist Diffuser.
Want More Information?
Save