Isagenix IsaLean Shake NZ

The Famous Isagenix Shake!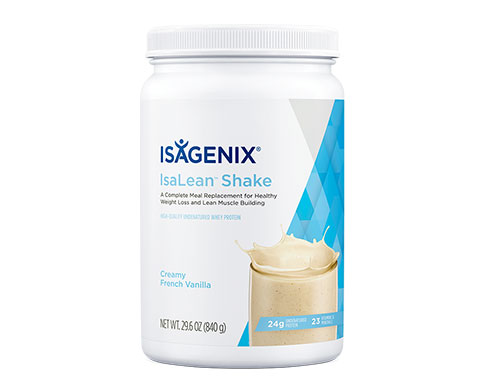 Now available in 4 delicious flavours!

Tired of feeling hungry? Tired of feeling tired? With Isagenix Shakes, you do not have to. Each shake is designed to help you boost your metabolism and help you lose weight without feeling empty. Made with high-quality nutrients and optimised for the best results, these shakes are a way to feel healthy and lose weight.
Within each of the Isagenix Shakes NZ there are a total of 240 calories. These calories are intended to be a complete meal replacement. Each Isagenix shake includes an optimized mixture of healthy fats, unprocessed protein and carbohydrates so that you can keep your caloric intake down without feeling hungry.
Once the Isagenix IsaLean Shakes are delivered to your door, you can whip up a delicious meal in just moments. These shakes are offered in flavours Creamy French Vanilla, Creamy Dutch Chocolate, Chocolate Mint and Strawberry Cream in New Zealand. You can choose to purchase the same flavour or a mixture of flavours (this is done during checkout).
Retail Price (Per Canister): $101.00
Sign Up and Save Price (Per Canister): $76.00 – Save $24.00!

How Can Isagenix Shakes Help You Lose Weight?
Isagenix Shakes – Flavours Available in New Zealand:
Creamy Dutch Chocolate
Chocolate Mint
Creamy French Vanilla
Strawberry Cream
All 4 flavours are available during the checkout process. Simply click the Buy Now button to purchase.
Each flavour is also available in a box of 14 individual sachets. This option costs slightly higher than the canisters.
Ingredients in Isagenix IsaLean Shakes:
Isagenix shakes are fueled by the very best ingredients including 24 grams of high-quality undenatured whey and milk protein along with a blend of trace minerals. Click on the links below to download the full list of Isagenix NZ Shake ingredients.

Save
Save
Save
Save
Save
Save
Save
Save