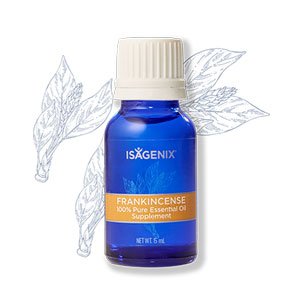 A powerful, beautifying and deeply aromatic scent with so many benefits, it's no wonder frankincense is known as the king of essential oils. Diffuse this ancient oil or apply topically with a foot massage to encourage feelings of peace and wellness.
Decompressing
Beautifying
Retail Price: $120.00
Sign Up and Save Price with FREE membership: $90.00 (Save $30.00!)

Frankincense Oil
Benefits:
With usage dating back to biblical times, frankincense is a widely known, highly prized essential oil. Its potency and enjoyable aroma make it ideal for topical use or diffusing purposes.
When applied directly to the skin, it soothes and rejuvenates. Taken internally, it can help support healthy digestion and cellular activity. When diffused, it is thought to promote feelings of wellness and relaxation.
Application Methods:
Topical – Add a drop of frankincense oil to 10 to 12 drops of Isagenix Coconut Application Oil and apply the mixture directly to skin.
Internal – Dilute a single drop of oil in liquid (4 ounces).
Aromatic – Fill your Isagenix Diffuser with 8 to 10 drops of this oil to enjoy the warm, spicy, earthy, woody scent.
Want More Information?
Save