Isagenix IsaGenesis Premium Pack
Buy Isagenix IsaGenesis Premium Pack in NZ!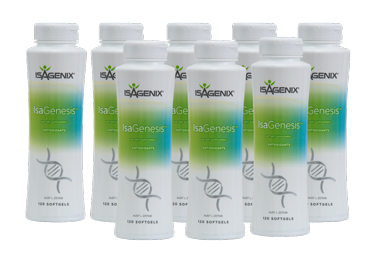 Isagenix IsaGenesis utilises an advanced formula of powerful antioxidants to support telomere health and help reduce oxidative stress. As one of the five Isagenix pillars of good health, IsaGenesis is a must-have product your body is thirsting for.
As one of the core products in the Isagenix range, IsaGenesis is incredibly popular and definitely worth sharing. If you're looking to launch your Isagenix business and want to share the power of IsaGenesis with others, the IsaGenesis President's Pak is for you. Featuring eight bottles of advanced telomere support, it's an ideal product for sharing with others and building long-term income as well.
Retail Price: $1071.24
Sign Up and Save Price: $736 (with FREE signup – Save $335.24!)

What is IsaGenesis?
Scientifically formulated by top nutritionists, IsaGenesis is a safe yet powerfully effective supplement designed to turn back the hands of time, promote youthful aging, provide telomere support, and help your body's ability to combat damaging free radicals. IsaGenesis users have reported a wide range of benefits, including:
Increased energy
Improved performance
Sharpened mental acuity
Better sleep
Faster recovery time
Improved memory
IsaGenesis – Today's Best Telomere Support Product!
IsaGenesis utilises handpicked botanicals and advanced extraction techniques, resulting in a powerful, potent, and incredibly effective telomere support product. By combining select natural ingredients, ancient healing principals, and cutting-edge scientific techniques, IsaGenesis is able to provide unparalleled telomere support, reduce oxidation and inflammation, neutralise free radicals, and promote a healthier and younger feeling you.
Whether you're looking to stock up on a proven product to help take your Isagenix business to the next level or simply want to share the benefits of IsaGenesis with your friends and loved ones, the Isagenix IsaGenesis President's Pak is a definite must-have!
How Do I Buy the Isagenix Energy & Performance Pack in New Zealand?
There are three basic ways that you can start using the Isagenix Energy Premium Pack.
RECOMMENDED: Sign up and Save ($736 with FREE signup)

— With the Sign up and Save option, you get the Isagenix Energy President's Pak at the cheapest possible prices. During checkout you will need to enter your autoship—your 2nd order you will receive in 30 days time (you will only pay for this 2nd order at the time it is shipped). This can be cancelled or changed at any time after you receive your 1st order. You can choose to purchase this way, receive your first order and then cancel autoship immediately and still get your first order at the cheapest possible price!

Preferred Customer ($803.42 + $50 Signup)

–The Preferred Customer option allows you to access cheaper than retail prices, but it is slightly more expensive than the autoship option.

Full Retail ($1071.24)

–If you are not comfortable with an autoshipment and do not want cheaper prices, you can use the full retail option. You get the same great products, but at the more expensive price.
Each Isagenix NZ pack comes with a 30 day money back guarantee. If you are not perfectly happy with your purchase, you can return it within 30 days for any reason.

Living the Isagenix Way: Business Opportunities of the Future!
If you are passionate about Isagenix, you can earn money from your love of the products. I quit my 9-5 job and became financially stable within two months of selling the product. This choice is 100% optional, so it is up to you if you want to just buy Isagenix New Zealand products, earn money or both.
Want More Information?