Isagenix IsaOmega

What is Isagenix IsaOmega?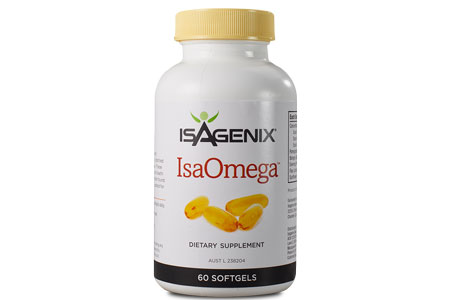 Sourced from the freshest fish in the deep and unpolluted waters off of the mountainous coast of Chile, Isagenix IsaOmega is the very best omega-3 fish oil on the market today. Nearly three times as potent as other fish oils, these powerful lemon-flavoured soft gels are proven to reduce inflammation and promote cardiovascular, brain, and joint health.
Every single batch of Isagenix IsaOmega undergoes extensive third-party testing, guaranteeing you receive nothing but the best fish oil available. Whether you're an everyday Joe looking to improve your overall health or a professional athlete in search of elite nutrition, Isagenix IsaOmega has what you need to look, feel, and perform your best.
New to Isagenix? Order online now to enjoy the lowest possible prices and take advantage of the fantastic 30-Day money back guarantee!
Why Choose Isagenix IsaOmega?
The benefits of fish oil have been well-known for quite some time. In fact, just about everyone should be taking some form of fish oil. As the purest and most beneficial fish oil being made today, Isagenix IsaOmega is the ultimate fish oil supplement and certainly worth choosing over other inferior products.
Here are some of the many reasons to begin boosting your health with Isagenix IsaOmega:
Pure, Unpolluted Fish OilThe fish oil sourced for Isagenix IsaOmega comes from fish swimming in the deep, unpolluted waters off of the Chilean coast. There is no other fish oil out there with the purity and potency of Isagenix IsaOmega.
Reduces InflammationRegularly taking Isagenix IsaOmega can greatly reduce the pain of aching joints and systematic inflammation caused by aging, chronic conditions, or years of playing sports.
Excellent for AthletesBy supplementing with Isagenix IsaOmega alongside other Isagenix products, athletes can add reduced inflammation to the laundry list of benefits associated with their Isagenix programme.
Promotes Brain and Heart HealthIsagenix IsaOmega has a high concentration of healthy DHA and EPA fatty acids, which are the foundations for its brain and heart health benefits.
Third-Party Tested and ApprovedWith quality assurance at the forefront of every Isagenix product, Isagenix IsaOmega undergoes extensive third-party testing in order to ensure it not only meets but exceeds Isagenix's strict standards.
How to Use Isagenix IsaOmega
Isagenix recommends taking two soft gel capsules each and every day. Two capsules per day will provide you with 1,2000mg of the very best omega-3 fatty acids in the world!
Retail Price: $52.00
Sign Up and Save Price: $39.01 (Save $12.99!)

Save