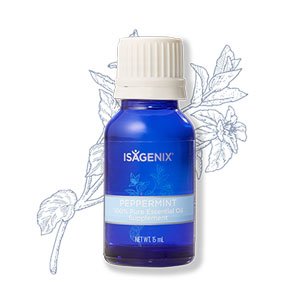 Feel instantly invigorated with the fresh scent of peppermint. A well-loved and versatile scent, peppermint contains menthol properties that provide a refreshing aroma and a cooling relief when applied topically to the skin.
Post-workout cooling
Refreshing and uplifting
Retail Price: $37.33
Sign Up and Save Price with FREE membership: $28.00 (Save $9.33!)

Peppermint Oil
Benefits:
Feel instantly revitalised and invigorated with peppermint's potent, minty, beloved scent.
Used directly on the skin, it offers relaxing properties that can greatly benefit sore joints or muscles. By ingesting peppermint oil, it may help calm an upset stomach. Diffusing peppermint oil releases a cool, refreshing scent that helps promote mental clarity and healthy respiration.
Application Methods:
Topcial – Use 10 to 12 drops of Isagenix Essence Coconut Application Oil to act as a carrier oil for a single drop of peppermint essential oil.
Internal – Add a single drop of peppermint essential oil to the liquid of your choice (4 ounces).
Aromatic – Diffuse 8 to 10 drops of peppermint essential oil in your Isagenix Cool Mist Diffuser.
Want More Information?
Save