Isagenix Replenish

What is Isagenix Replenish?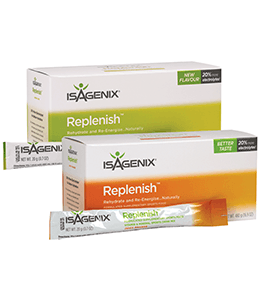 Boost Your Performance with On the Go Energy and Hydration!
This refreshing sports drink provides optimal hydration, boosts energy levels, and delivers a bounty of nutrients and electrolytes designed to give athletes superior replenishment in a moment's notice. Forget water; Isagenix Replenish is the ultimate post-workout drink.
Why Replenish?
Hydration plays an integral role in your health and well-being, and if you're an athlete, it simply can't be overlooked. The loss of body fluid can negatively affect your performance, resulting in a lack of energy, poor concentration, and slower reaction time. Sodium loss through sweat also leads to muscle cramps and weakness.
Isagenix Replenish solves these problems and more! Created to help you maintain proper water balance, this innovative all-natural sports drink re-energises the muscles and helps sustain performance for maximum results. It even helps aide in the recovery process as well!
Replenish harnesses its rejuvenating power through the use of vitamin C, select B-complex vitamins, and a complex blend of premium carbohydrates, all of which combine to boost energy and support peak physical performance.
Benefits of Isagenix Replenish
Enhanced PerformanceThanks to Replenish's superior hydration, you can enjoy more energy, increased endurance, and better overall performance.
Faster RecoveryReplenish provides you with the nutrients and electrolytes lost during physical activity, allowing you to get the most out of every training session and recover faster in between.
No Unwanted IngredientsUnlike other sports drinks, Isagenix Replenish is all-natural and contains no artificial sweeteners, flavours, or colours. The safe yet effective all-natural sports drink is also dairy-, gluten-, and soy-free.
Ultimate ConvenienceReplenish is easy to mix up and perfect for taking with you on the go. Simply mix a scoop into a bottle of water and enjoy superior hydration wherever and whenever you want!
Available Flavours
This hydrating beverage is available in three delicious flavours:
How to Use Isagenix Replenish
Replenish can be enjoyed anytime you need a refreshing boost of nutrients and electrolytes. If you opt for the convenient ready to pour sticks, simply empty one stick into a glass of cold water and sip away. When using the Replenish canister, mix one scoop with half a glass of cold water and enjoy!
Retail Price: $47.99
Sign Up and Save Price: $36.00 (Save $11.99!)

Save