Isagenix Whey Thins

Great Tasting High-Protein Snacks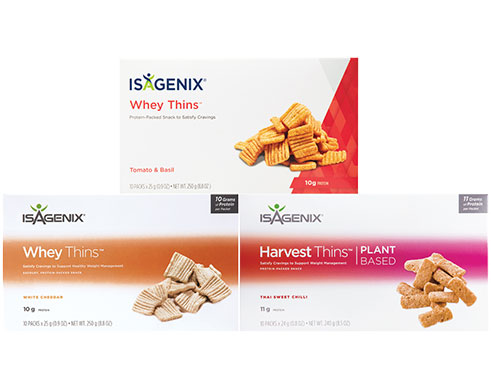 Before Isagenix Whey Thins, tasty high-protein snacks low in both calories and carbs were tough to find. Thanks to Whey Thins, however, those days are gone for good! With 10 grams of premium undenatured protein and only 100 calories per serving, Isagenix Whey Thins are the perfect guilt-free snack.
Protein helps maintain healthy muscles and satiate hunger, making you less tempted to indulge in junk food in between meals. While delicious and available in several tasty flavours, the healthy blend of protein and whole grains in Whey Thins will actually help your waistline, not hurt it.
Whey Thins – Fast Facts
Each serving of Isagenix Whey Thins contains 10 grams of premium protein.
Whey Thins are made from a combination of whole grains, providing you with 100 percent of the grain nutrients.
Whey Thins are soy-free and completely free of trans fats.
Two savory flavours are available for your snacking pleasure.
What Whey Thins Can Do for You
Whey Thins are an ideal low-carb, low-calorie way of incorporating more quality protein into your daily diet. Made with seven whole grains, each individually wrapped serving contains 10 grams of protein and only 100 calories for building and maintaining lean muscle.
This healthy snack is also good for your heart. Packed with protein instead of trans fats, Whey Thins will help you stay full between shakes or meals and may even lower your cholesterol as well.
Protein for Strong Muscles
Protein helps build and maintain strong muscles. Unfortunately, getting enough protein on a low-calorie diet can be difficult to say the least. Keeping a box of Whey Thins at home, in your desk at work, or your gym locker can help keep your protein levels up to build and maintain the healthy, lean body you deserve.
What Makes Whey Thins Unique?
These heart healthy crackers are high in protein and low in carbs, which is a rare combination in the processed, carb-loaded snacking world.
How to Enjoy Whey Thins
Whey Thins can be eaten in between meals as a snack or whenever you're in need of an instant protein boost. With delicious, savoury flavours to choose from and only 100 calories per pack, you can snack responsibly and resist the temptation of junk food and unhealthy snack options.
Retail Price: $46.67
Sign Up and Save Price: $35.01 (Save $11.66!)

Save