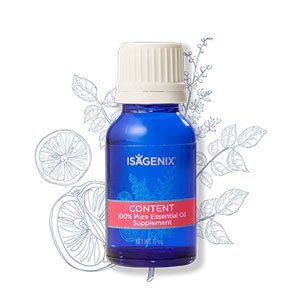 Content combines lemon, frankincense, eucalyptus, rosemary, clove and cinnamon bark to energise the body and purify the air when diffused. Add a few drops to a spray bottle with water and use as a surface cleaner.
ReContenting and uplifting
Retail Price: $45.33
Sign Up and Save Price with FREE membership: $34.01 (Save $11.32!)

Content Oil
Benefits:
Content combines 10 amazing oils to help boost your metabolism and promote wellness. This unique blend can be taken internally as part of your weight management routine. It can also help support a positive emotional state and may help decrease cravings.
Application Method:
Topical – It is not recommended to use Content directly on the skin.
Internal – There are several ways to take Content internally to help support a healthy metabolism and optimize your athletic performance. Adding a drop or two of Content to your Isagenix Shakes can help control your appetite and assist you in your weight loss/management goals. It makes an excellent addition to Cleanse Days (add a drop or two to 8 ounces of water to help keep you energised and keep cravings in check.)
Aromatic – It is not recommended to use Content in your diffuser.
Want More Information?
Save