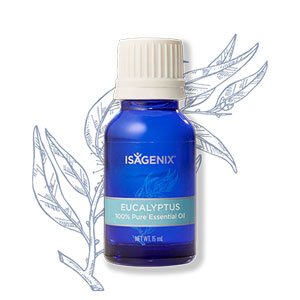 Awaken the senses with the crisp and fresh aroma of Eucalyptus. An essential for every household, it's perfect for sanitising surfaces and freshening the air.
Retail Price: $29.33
Sign Up and Save Price with FREE membership: $22.00 (Save $7.33!)

Eucaltyptus Oil
Benefits:
Eucalyptus oil, long prized for its beneficial properties, can be used topically to help with symptoms of a cold or cough. Aromatically, it may help reduce tension headaches, open airways, and open up nasal passages.
With a fresh, potent aroma that enlivens the senses, eucalyptus oil is ideal for the times you need a natural boost. It also serves as an excellent, natural sanitising solution for surfaces.
Application Methods:
Topical – Take 10 to 12 drops of Essence Coconut Applicaton Oil and mix with one drop of eucalyptus oil. Apply the diluted oil directly to the area in need.
Internal – Eucalyptus oil is not suggested for interal use.
Aromatic – Add up to 10 drops of eucalyptus oil into your Isagenix Essence Aromatic Cool Mist Diffuser.
Want More Information?
Save