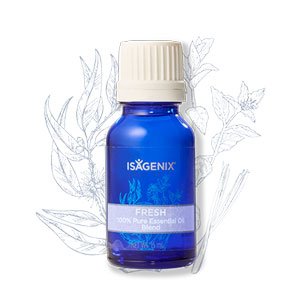 Fresh combines eucalyptus, lemon, lemongrass, peppermint, tea tree, grapefruit, rosemary and thyme to revitalise and stimulate with each breath. Diffuse in the bedroom to prepare for a restful night's sleep.
Revitalising and stimulating
Retail Price: $37.34
Sign Up and Save Price with FREE membership: $28.00 (Save $9.34!)

Fresh Oil
Benefits:
Fresh is an uplifting, stimulating blend of eucalpytus, rosemary, tea tree, lemongrass, peppermint, and grapefruit oils. It is ideal for use at bedtime to promote high quality sleep.
Application:
Topical – Add 10 to 12 drops of Isagenix's Coconut Oil to 1 drop of Fresh and apply to skin.
Internal – Fresh should not be used internally.
Aromatic – Add up to 10 drops of Fresh into your Cool Mist Diffuser to fill thea ir with a pleasant aroma.
Want More Information?
Save