If you're on the Isagenix program, there's a multitude of recipes that can satisfy you without an overload of calories. Here's one of our favourites: prawns on zucchini… yum!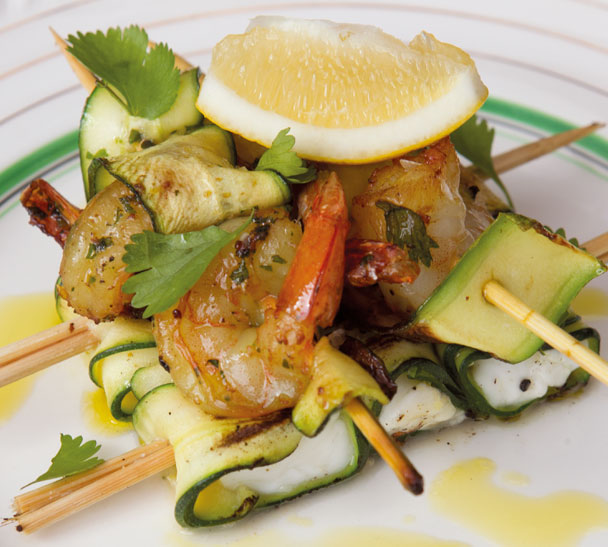 Ingredients:
2 T. extra-virgin olive oil
2 carrots, peeled and sliced
1 stalk celery, chopped
1 medium onion, chopped
2 cloves garlic, peeled and pressed
3 fresh tomatoes, chopped, or use 1 can diced tomatoes
1/4 cup vegetable broth
1/4 cup fresh basil, chopped
Freshly ground pepper
500 g zucchini
500 g medium raw prawns, peeled and deveined
1/3 cup crumbled feta cheese
Lemon wedges
Method:
Sauté carrots, celery, onion and garlic in olive oil over medium-high heat until vegetables begin to soften, approximately 8 minutes. Stir in tomatoes and broth. Bring to a boil and then reduce heat and simmer for 10 more minutes. Add ground pepper to taste.
Slice zucchini thinly, and place in microwave-safe bowl. Add 2 tablespoons of water, Cover the bowl, and microwave for 1-2 minutes until the zucchini is cooked but still crisp.
Add the prawns to the vegetable sauce mixture. Cover, and cook about 5 minutes until prawns turns pink. Stir in basil.
To serve, spread warm zucchini over a serving platter. Pour prawn mixture on top. Sprinkle with feta cheese, and serve with lemon wedges.
Nutritional Content:
Calories per serving: 228
Protein: 24 g
Fat: 7 g