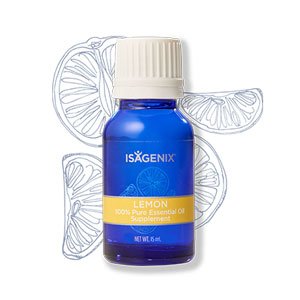 Get up and go in the morning with the bright, uplifting scent of lemon. Promote feelings of clarity and invigoration with the zesty freshness of lemon, sure to energise you for the day ahead.
Retail Price: $22.67
Sign Up and Save Price with FREE membership: $17.00 (Save $4.66!)

Lemon Oil
Benefits:
Lemon essential oil is excellent for natural cleaning purposes, relieving symptoms of a cold or cough, and promoting a positive mood.
When ingested, it may help support digestive and respiratory functions. With an energising citrus scent, it makes a great way to naturally boost your energy and promote upbeat feelings.
Application Methods:
Topical – Dilute a drop of oil with around 10 to 12 drops of Isagenix Coconut Application Oil and apply as desired.
Internal – Mix a drop into 4 ounces of liquid.
Aromatic – Add 8 to 10 drops to your Isagenix Diffuser.
Want More Information?
Save