Isagenix SlimCakes

What is the Isagenix SlimCakes?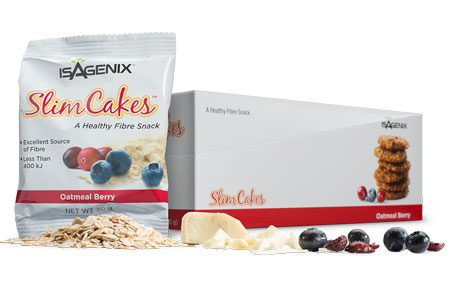 Snack time just got a little more enjoyable with the Isagenix SlimCakes. These cakes are made to provide your body with optimal nutrition and a delicious taste. Each time you enjoy a SlimCake, you are providing your body with a unique blend of whole oats, berries and flax seed. These hearty cakes contain just 90 calories, so you can support a healthy diet while filling your stomach with vitamins.
One of the reasons that Isagenix SlimCakes are ideal for a healthy diet is their high fiber content. Each of these cakes contains a total of five grams of fiver. This accounts for 20% of the recommended daily allowance of fiber. Due to their high fiber content, Isagenix SlimCakes help your body absorb nutrients properly while also decreasing hunger pains. With Isagenix SlimCakes, you receive a delicious snack that leaves you feeling full for longer.
Retail Price: $41.34
Sign Up and Save Price: $31.00 (Save $10.34!)

Flavors:
Ingredients:
Product Marketing Materials

Save