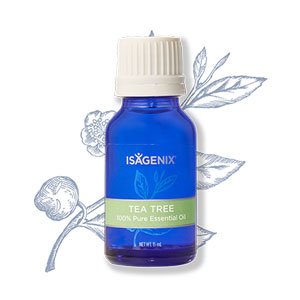 The cleansing properties of tea tree make it the perfect solution to purify and freshen the air in your home or workspace. Apply topically to maintain the appearance of healthy skin, hair and scalp as well as reduce the appearance of imperfections.
Retail Price: $38.67
Sign Up and Save Price with FREE membership: $29.00 (Save $9.67!)

Tea Tree Oil
Benefits:
Tea tree oil possesses purifying qualities that make it an excellent addition to natural cleaning solutions. Used topically, it helps promote healthy skin and a balanced scalp.
When taken internally, tea tree oil may help keep your immune system healthy. To add a unique, enjoyable scent to the air, consider diffusing several drops of tea tree oil.
Methods of Application:
Topical – Take a drop of tea tree oil and combine it with Isagenix Essence Coconut Application Oil, about 10 to 12 drops, and apply the mixture directly to your skin.
Internal – In 4 ounces of the liquid of your choice, add one drop of tea tree oil.
Aromatic – Use your Isagenix Essence Aromatic Cool Mist Diffuser with up to 10 drops of tea tree oil.
Want More Information?
Save