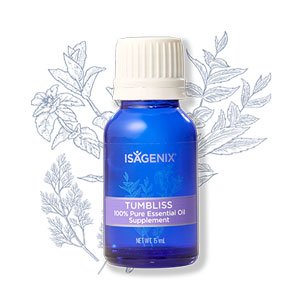 Naturally comforting, TumBliss combines dill, spearmint, peppermint, lemon, carrot seed, cardamom, lemongrass and ginger to create a calming experience. Apply to the wrists and stomach for a soothing feeling before flying or travelling.
Retail Price: $61.33
Sign Up and Save Price with FREE membership: $46.00 (Save $15.33!)

TumBliss Oil
Benefits:
This careful combination of select essential oils such as dill, cardamom, spearmint, ginger, lemongrass, peppermint, and carrot seed is an ideal topical solution to fight feelings of self-doubt.
Diffusing TumBliss fills the air with a refreshing, minty aroma that is designed to help improve mental clarity and encourage clear breathing. Internal use of TumBliss is not recommended.
If you have a long trip or a flight coming up, be sure to apply a few drops of TumBliss to your wrists or stomach. You may also want to consider using it topically prior to a big sports event as it can promote a healthy competitive sense.
Application Methods:
Topical – Mix a drop of TumBliss with around 10 to 12 drops of Isagenix Coconut Application oil and apply the mixture to your desired area.
Internal – Internal use of TumBliss is not recommended.
Aromatic – Add up to 10 drops of TumBliss to your Isagenix Diffuser
Want More Information?
Save